About | Place a Special Order | Contact | Site Map | Shipping & Returns | Mobile Site | Home







Unpainted


STI-style Rear Hatch Trim
to fit 2008-2011 Subaru

®

Impreza 5-Door Hatchback
and 2008-2013 Impreza WRX and STI
Hatchback Wagon Models


– Custom Manufactured by C&C CarWorx –


This STi-Style Tape-on Rear Hatch Trim
in an unpainted finish option
for 2008-2011 Subaru Impreza 5-door Hatchback
and 2008-2013 WRX and STI Hatchback models
conceals standard rear chrome accent panel above license plate

If you have an Impreza SEDAN, click here.

Available in four different finish options:

PAINTED | UNPAINTED

(order below)

| FAUX CARBON FIBER | GENUINE CARBON FIBER


Made in the USA
A Quality Aftermarket Accessory Manufactured by C&C Car Worx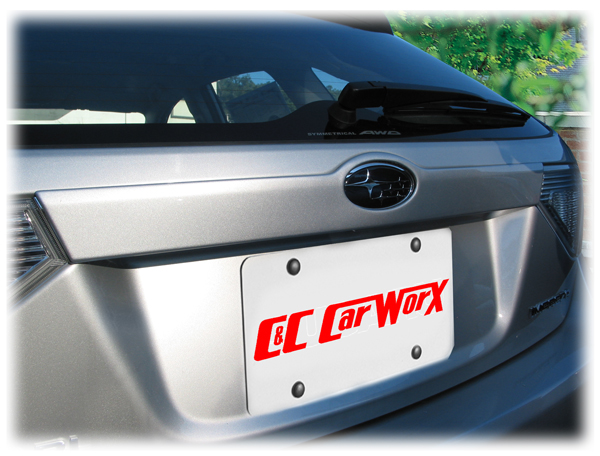 Shown above:
When painted, our Tape-on STI-style Hatch Trim
easily conceals standard chrome panel.

Shown below:
The Impreza Hatchback Unpainted STI-style Rear Hatch Trim Part



For those who wish to emulate the STI model's smart rear hatch trim styling
whose panel above the license plate does not use the standard chrome,
we can provide you with an easy-to-install panel
which can be applied directly over the chrome panel
with supplied high quality tape by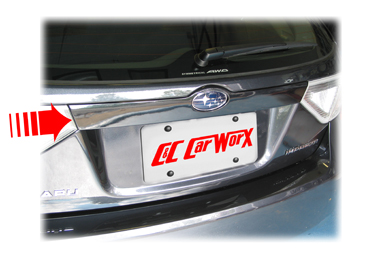 Shown above:
Before Installation of Tape-on
STI-style Hatch Trim,
standard chrome panel
is above license plate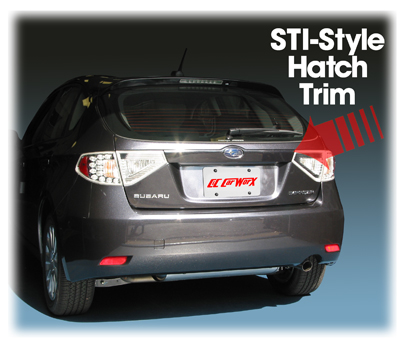 Shown above:
After Installation of Painted Tape-on
STI-style Hatch Trim, standard
chrome panel is concealed

Item #

RT-08IH-NP
$50.76
UNPAINTED

STi-Style
Tape-on
Rear Hatch Trim
for 2008 - 2011
Impreza
5-door Hatchback
and 2008-2012
WRX & STI
Hatchback
models

Sorry!
This item is not currently
available.
---
All products carry a 3-year or 36,000 mile warranty.
© 2007 C&C Car Worx Corp. All Rights Reserved • Privacy Policy
• Terms • Legal/Disclaimer

C&C CarWorx Corp. is not in any manner authorized or approved by or connected with Subaru of America, Fuji Heavy Industries, Ltd. or Toyota Motor Corporation and does not sell genuine or authorized Subaru or Toyota original equipment manufacturing (OEM) parts. C&C CarWorx sells its own high quality, custom designed and manufactured parts produced to fit both new and older models of Subaru and Toyota, giving customers an excellent source of maintaining and/or improving the pleasure of Subaru or Toyota ownership at an affordable price for the life of their vehicle. C&C CarWorx Corp. is not in any manner affiliated with Grillcraft, Romik, DBA, Hawk, Carbotech, 3M, Sherwood Innovations, Inc.or Parrot SA but is authorized to sell products from these sources which may be represented on this website, sometimes in conjunction with use of our own C&C CarWorx products. Subaru, Six Star Cluster design, Baja, BRZ, XV Crosstrek, Legacy, Impreza, Tribeca, WRX, STi, Outback and Forester are trademarks owned by FUJI and Subaru of America. Toyota and Camry are registered trademarks owned by Toyota Motor Corporation. 3M, the 3M logo, and Scotchgard are worldwide trademarks or registered trademarks of 3M. PARROT SA is a registered trademark and its products, accessories and exclusive models are protected by the appropriate patents and trademarks. Grillcraft, Romik, DBA, Kangaroo Paw, Hawk and Carbotech logos are trademarks of those respective corporations and are used with permission. The C&C Car Worx logo and the service mark Perfect-Fit are trademarks of C&C Car Worx Corp.

---
SATISFACTION
GUARANTEED
If there is any reason
why you are not
happy with your purchase,
we will accept your returns
for a full refund.*
Customer satisfaction
is our top priority.
*See our complete
returns policy.

---
This is a
SECURE SITE
You can rest assured
that your personal
information is protected from
identity theft on this site.

Just note that on the page
where you input your
personal data to order,
your browser will display
the security lock symbol on the
upper or lower corner
of its frame. Variations may
occur depending on which
browser or platform you use.

Internet Explorer



Mozilla Firefox, Safari



Netscape Navigator